Frequently Asked Questions
About Our Accounts


Email Account How-Tos


Getting Started


Registration


Something's Wrong...


Tips and information


What does this mean?
---
I would like to use an email program, such as Outlook or a mobile device to send/receive my email.
For assistance with this, click here.
---
How do I set up/manage my aliases?
Once logged in to the 'My Account' dashboard, click on the Manage Aliases link.  It will look something like this:
           + 3 Aliases (manage aliases)
To add a new alias, click on Payment Portal under 'Billing' on the right hand side. 
Browse to find the account you wish to upgrade on the left hand side, under the relevant heading.
The next page will show you what accounts you currently own.  Click on the 'Upgrade' button next to the one you wish to change.  On the next page, just scroll to the bottom to see the Alias bolt on. 
You can update an alias as much as you want, but when you update it, it will delete the old one. If an email is then sent to the old alias, it will be bounced back to the sender. The new alias will work straight away.
You can also set up your account to send emails from your alias using Multiple Identities.
---
How do I use multiple identities?
Multiple identities are a way to configure your account to send from the Email Aliases you have set up on your Account. For more details on setting up Aliases, please see our help guide here.
To set up Multiple Identities on your account, follow the steps below depending on which version of webmail you are using:
New Webmail
If using New Webmail, any time you add an Alias to your Account, it will automatically be set up as a new Identity. You can check and edit your Identities by following the steps below:
Go to Settings found in the top right hand of the screen.
Go to the Identities section.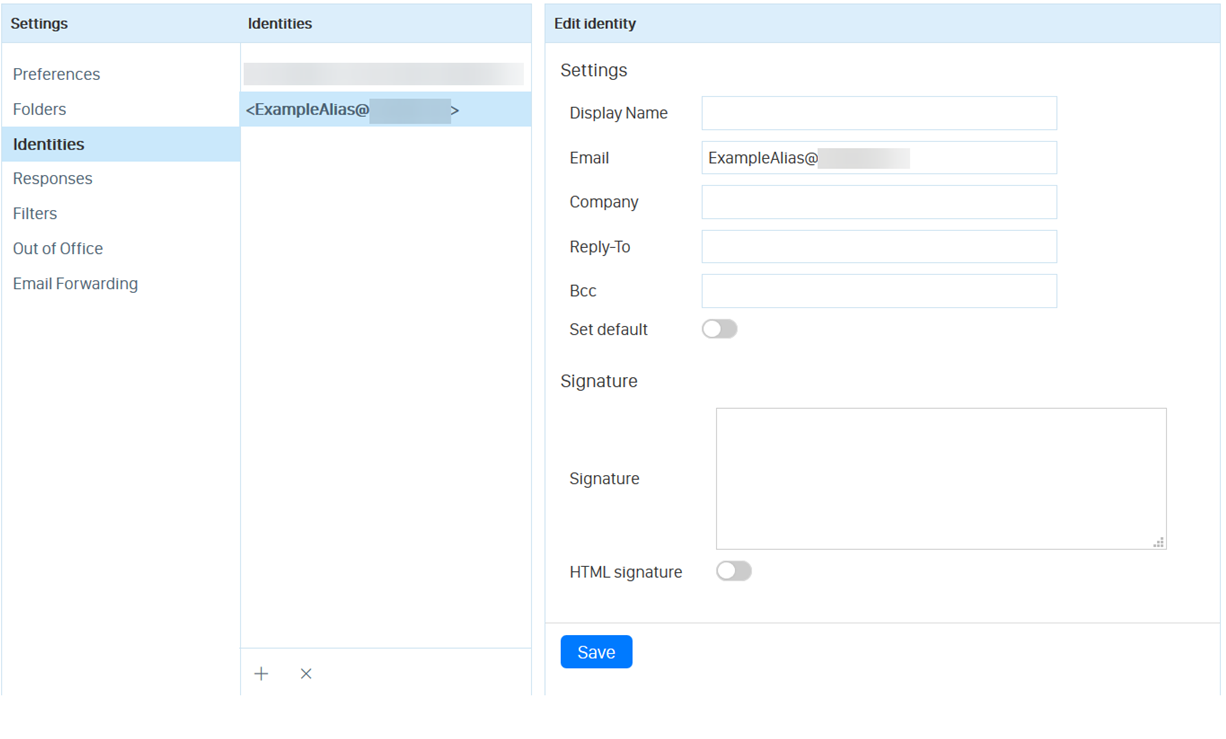 Click on the Email Address you wish to update. This will show the settings that you can edit to set up your Identity.
Old Webmail
If using the Old Webmail interface, to set up a forwarding address, first go to your Webmail Inbox and then click OPTIONS at the top of the page.

Go to the Personal Information section. If you do not have the advanced options page showing, you can switch to this at the top of the page.
Click on Edit Advanced Identities under the Name and Address Options section.
Here you can add, edit or delete your identities. You can add as many as you want. If you have a nickname set up on your account already, you can set up an identity to send from that nickname.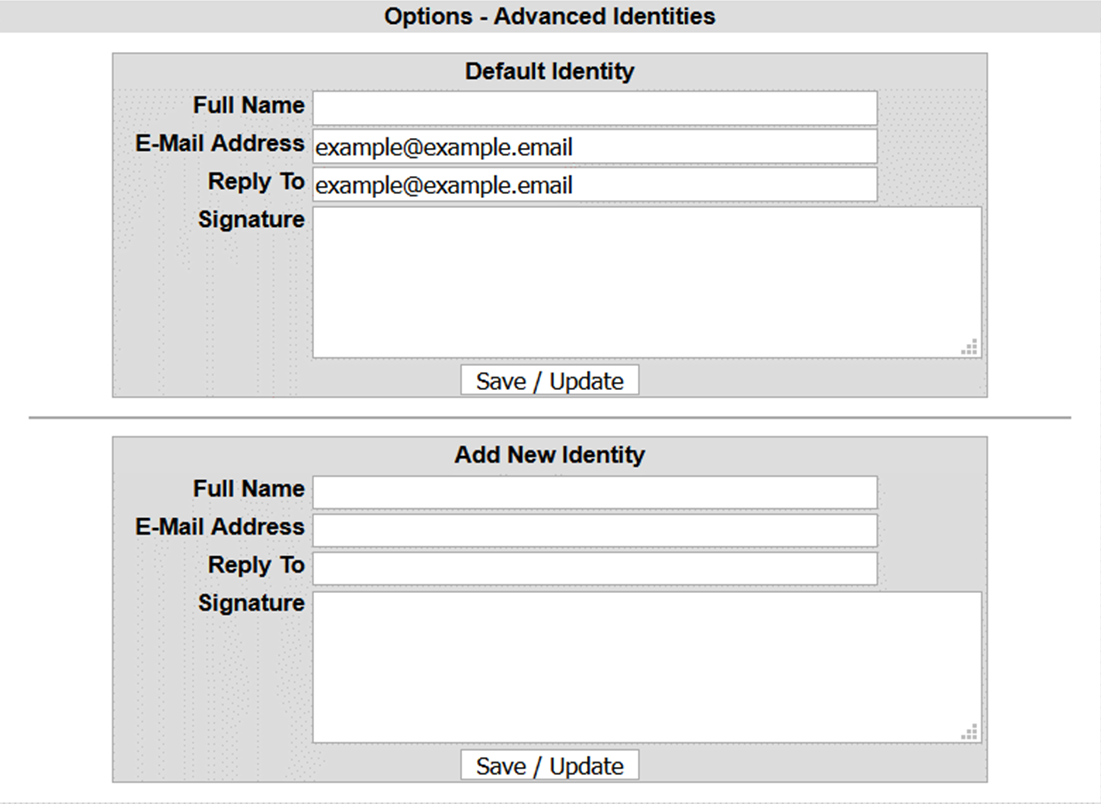 Full Name: Enter the name that you wish to appear in your Emails.
E-Mail Address: Enter your Email address or one of your Alias Addresses. This email address MUST ALREADY EXIST. If you send an email from one that does not exist, any replies to it will either bounce back to the sender or be lost.
Reply To: If you wish Email responses to go to another address, enter it in this field.
Signature: You can set a Signature to appear at the bottom of your Emails in this field. Different Identities can have different signatures.
When you are finished, just click any one of the Save/Update boxes. It will save all of the changes you have made.
To use one of your Identities when sending an Email, simply go to Compose a new message. You will see that the From box at the top will have a dropdown. This will allow you to select which Identity to send from.
When you reply to an email sent to that address, the system will intelligently ensure that you respond using the correct address.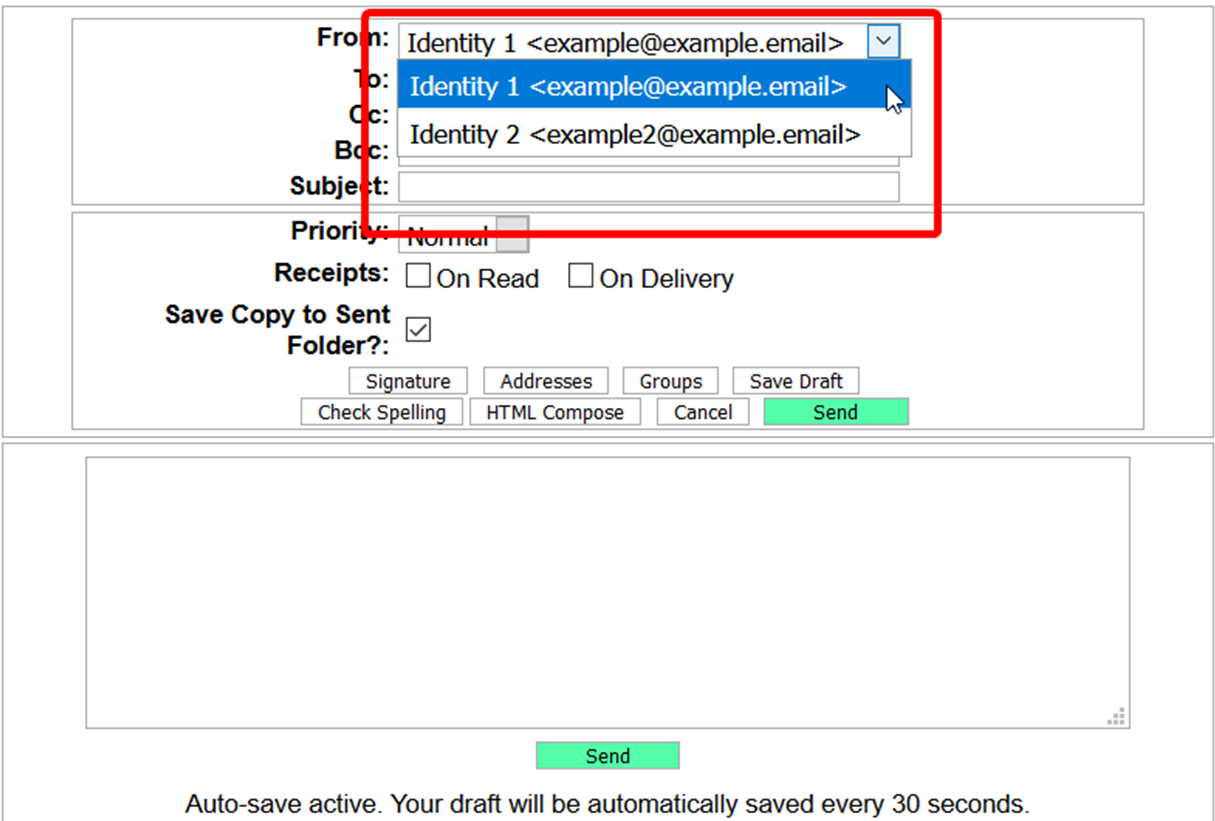 If you have any issues setting up an Identity, please contact our helpdesk at help@aluminati.net
---
How do I set up email filters?
**Note: Email Filters are currently only available for New Webmail. If you wish to set up Email Filtering on your Account, please use the new version of Webmail!**
Email Filters allow you to set up automatic processes for managing your Email. This can be used for moving certain Emails to a particular folder, deleting the message, sending an automated response and a host of other options.
To set up an Email Filter, log in to your Webmail Inbox and go to Settings. You can find this in the top left of the screen.
You can then go to the Filters section:

To set up a new Filter, follow the steps below:
Click on the small plus sign (+) under the Filters heading. This will bring up all the options for setting a new Filter.

Add a Filter name and some rules to your Filter. Rules are added under the For incoming mail section, and contain a variety of different conditions you can set. Use the dropdown boxes to select the rule you wish to set up. You can add and delete rules using the +/- buttons on the right.
Add an action for the filter to perform if the rules are met. This is done under the execute the following actions section, and you can use the dropdown boxes to decide what actions are taken.
You can enable or disable the filter using the Filter disabled toggle at the bottom of the screen.
Once happy with your Filter, you can click Save.
After a filter is saved, it will appear in the list under the Filters column. To edit the Filter again, you can simply click on it in this list.
If you require any assistance setting up a Filter for your email account, please contact our support desk, who will be more than happy to help. You can contact them at help@aluminati.net
---
How do I use message highlighting?
**Note: Message highlighting is not available in New Webmail, and the below help guide only applies to Old Webmail**
Message highlighting is a way of making certain emails, or emails from particular senders stand out more. It means that when you look at your inbox or folders, those emails will be highlighted in any colour you choose - making them more visible for you.
In Webmail, go to Options > Message Highlighting. Click on the little plus icon next to Add Rule.
Choose a name for your rule to describe it, such as: Emails from Work, Family, etc.
Now you just need to choose the conditions for your rule, selecting the field in which you wish to match again. For example, if you choose From, it will look for matches in the email address.
In the box labelled Matches, you can put in the whole subject or email address, or just part of it, such as the company name. (E.g., nhs, gov.uk, etc.)
Now you can choose the colour you want the messages to be highlighted in, by typing it in the box, clicking on one of the colours shown, or selecting the one you want from the drop down box
In the box next to Colour, you need to write in a colour's hex code, rather than the name. If you don't know what hex code is, just ignore it and use the other options.
Once you are happy, just click Save Changes.
You can add more than one rule if you wish, and have emails from different people or companies in a different colour.
To delete a rule, under Message Highlighting where you can see a list of your rules, just click on the red cross next to the one you wish to delete.
---
How can I archive my emails for safekeeping or transfer?
If you want to archive less than 100 messages at a time (This option is only available for Old Webmail)
(This method is best for archiving fewer than 100 messages at a time.)
In Webmail, go to Options > Archive Settings. Under format emails as choose EML Messages, and save it.
Then, go to your inbox, or to the folder that contains the emails you want to archive. Select the emails you want to save, and click the drop down box on the right above the email list marked With selected… choose archive, and save wherever you want to on your computer.
If you want to archive more than 100 messages at a time (This option is only avaible for paid accounts)
(This method is best if you want to archive more than 100 messages at a time, and is generally recommend as a much more convenient way of downloading emails to your computer.)
Set up a mail client (such as Outlook, Thunderbird, or Mac Mail) to connect with your account via IMAP. If you are not sure how to do this, this article will help you.
Once you have your email account set up, just drag and drop the chosen messages to a local folders file on your computer. At this point you will want to make sure your computer is backed up, as those files will no longer be on our servers.
---
How do I change my email address or username?
If your personal details have changed (for example, after getting married), you may wish to change your email address to reflect this.
Before looking at altering your primary address though, you might consider adding or using one of your aliases as an extra email address.  This can be especially useful if you would like to retain your old address in case you are still contacted on it.
You can add an alias by going to My Account and then Manage Aliases.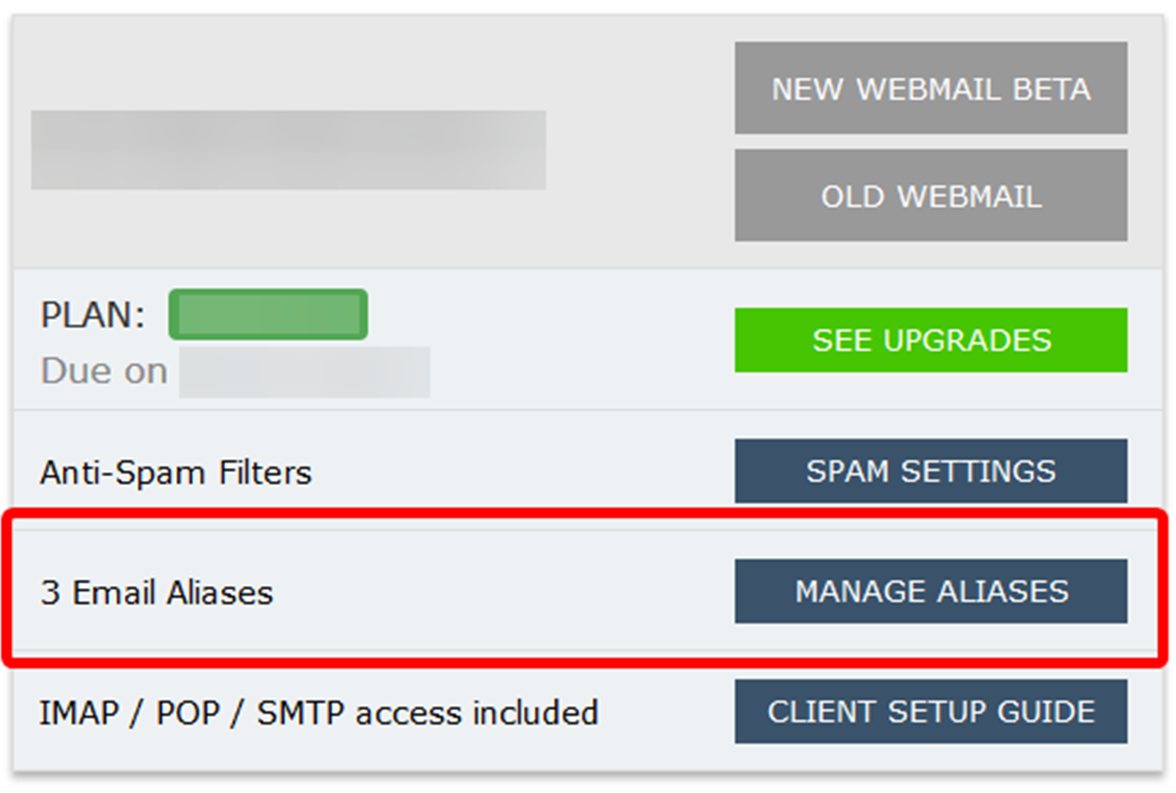 Once you have set up an Alias, any Emails sent to it will appear in your Inbox. You can read more about Aliases in our help guide here.

You can also set up your account to send from your alias by using Multiple Identities.  This enables you to choose which address to send from using a drop down menu in the compose window.
Email Address Change
If you still wish to update your email address, please contact our helpdesk from your alternative email account with details of what you would like it changed to. You can contact our helpdesk at help@aluminati.net
After we start the process, it will take 24 hours before it is switched over. Once it is completed, a temporary alias of your old address will be automatically created for 30 days to give you a chance to inform your contacts about your new one.
You will receive an automatic email confirmation at the start, and the next day when it completes.
PLEASE NOTE: If you already own the email address in question as an alias but wish to use it as your primary account, then the alias will need to be changed or removed before we can begin, as the system will not allow use of an address that is already in use.  
Emails sent to your alias address during these 24 hours will bounce back to the sender.
Username Change
The procedure for changing your username is the same as for your email address, except the change is immediate rather than taking place the next day. It has no effect on your email address. Please contact our helpdesk at help@aluminati.net if you would like to change your Username.
---